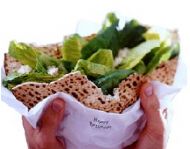 March 25th -26th 2013
Freedom - doesn't come in a day. It's the work of many lifetimes.  and what counts is the story we tell our children. To defeat a tyrant you need an army; but to defeat tyranny you need education.

Freedom may be won on the battlefield but its sustained in the human heart. Therefore don't just celebrate; educate.
 


We are proud to offer a Kosher-for-Passover meal plan as a service for all students.

We will be serving a hot delicious lunch & dinners on Passover
Sell Your Chametz Online!
Since it is prohibited to possess chametz on Passover, any chametz left undisposed must be sold to a non-Jew.

All such chametz, as well as all chametz utensils that were not thoroughly cleaned, should be stored away.

Use this form to Sell Your Chametz Online for Passover 
 
Click here to learn more about the holiday of Passover and it history, Mitzvot and customs